What is Paisa Nikal App   is an app that lets you AEPS ie (Aadhar Enable Payment System) Using Aadhar Enabled Payment System, any consumer can withdraw payment from his bank account and earn a good commission on it.
Paisa Nikal App is a paperless transaction app where you provide the facility to withdraw money to a person, just as a person can withdraw money from that ATM by going to the ATM by putting his ATM card. In the same way if someone comes to you with his Aadhar card number. So he can also withdraw money from you. Let us know what is Paisa Nikal App and how it works so that we can earn money from it.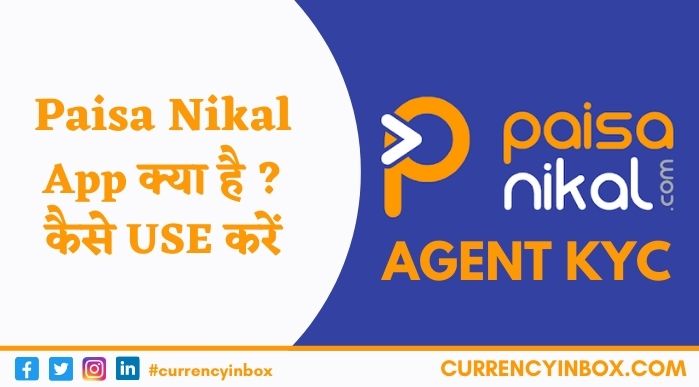 Click on the question and go to the answer!
What is Paisa Nikal App?
Paisa Nikal App is Android App which will help you Playstore But this is not a simple app, with the help of this app you can also open a small ATM in the shop. Now opening an ATM is not about installing an ATM machine, but you can provide people with the facility to withdraw money like an ATM.
take you money a eps Provides a facility to use the service in which you can give the biometric thumb impression of any customer by withdrawing money from their bank account and earning commission by providing such facility. AEPS is aadhar enabled payment system.
Under which if a person's Aadhar card is linked to a bank account, then that person can withdraw payment from his bank account only with the number of Aadhar card, but can do this work only at the places where people need to withdraw money with the help of AEPS. The facility is provided.
How to use Paisa Nikal App
Paisa nikal app is very easy to use for this you must have an android mobile phone if you have an android mobile phone then you play store You can search the app by going to withdraw money.
After that you can download that app inside your phone, once you download the app to withdraw money inside the phone, then by following the process given below, you can withdraw money and become an agent in the app.
Paisa Nikal app KYC Kaise Kare
Time needed: 8 minutes.
money withdrawal app KYC It is very easy to do, for this you have to first enter the withdraw app in your mobile, after that you have to complete your KYC by following the steps given below.
Download Paisa Nikal App

Download Paisa Nikal App

Enter Mobile Number

Enter your mobile number to register

Choose KYC Option

You will get the option of eKYC / Manual Registration, if you have a Biometric Device, then choose eKYC otherwise proceed by clicking on the manual

After selecting eKYC

By connecting the biometric device to the phone and moving forward with your thumb or finger

After selecting Manual Registration

In this, you have to proceed by entering your information like Full Name, Pan Card Number, Mobile Number, Shop Name, Email ID etc.

Enter Shop Address

Now enter the address of your shop or proceed by selecting the current address option

OTP Verification

Now OTP will come on your mobile number and verify it by entering it.
Now as soon as your agent account is created, you will get an SMS on your mobile which will contain the ID password of your account. After that you can open it by visiting the website given below.
Paisa Nikal Agent Login
To login to the agent account of Paisa Nikal aap, first follow the steps given below.
Go To https://paisanikal.com
Now enter the mobile number with which the account was created
Now enter the password you have received in SMS
Now click on the login button, your account will open
Paisa Nikal App Commission Chart
| | |
| --- | --- |
| SLAB | Retailer Commission |
| 100Rs to 500Rs | 0.3Rs |
| 500Rs to 999Rs | 1.1Rs |
| 1000Rs to 1499 | 2.0Rs |
| 1500Rs to 1999Rs | 4.0Rs |
| 2000Rs to 2499Rs | 5.0Rs |
| 2500Rs to 2999Rs | 6.0Rs |
| 3000Rs to 7999Rs | 8.0Rs |
| 8000Rs to 10000Rs | 10Rs |
Paisa Nikal App Commission Chart
Paisa Nikal App Ka Customer Care Number
If you need any information related to Paisa Nikal App then you can visit this page. Paisa Nikal Customer Care Toll Free Number: 91 74868-74868 You can contact on
Paisa Nikal App Details in Hindi
Money withdrawal app is a very good tool to earn money, it does not take any hard work for you, just you have to buy a Biometric Device which will come from 3500Rs to 5000Rs. You can buy any of the below given biometric device which supports money withdrawal.
Morpho
Mantra
Startek
Tatvik
Paisa Nikal App Service Ki Jankari
On the money withdrawal app, you can provide the services given below and by giving these services to your customer, you can earn good commission on it.
Balance Inquiry
Cash Withdrawal
Mini Statements
Money Transfer
you our post What is Paisa Nikal App If you like it then take advantage of this app and earn profit by sharing it with your friends.
Paisa Nikal App-FAQ
Is Paisa Nikal App Legal?
Yes, it is legal as of now.
Can you withdraw money from any bank with this app?
You can withdraw money from almost all banks like LIC, Axis bank.
How much money can you earn from this?
Rs 20,000 to Rs 40,000 a month minimum rest it depends on your transactions
Paisa Nikal Customer Care Toll Free Number
This number is +91 74868-74868